Media Center
Chris Platé: Boeing plant would fit well with Monroe-area aerospace cluster
11 December 2013
Ken Elkins, Charlotte Business Journal
Finally, we have a local person willing to talk about Charlotte's plans to compete for the $10 billion Boeing 777X plant.
Chances are Chris Platé, executive director of Monroe Union County Economic Development, hasn't read Charlotte's proposal for bringing the 8,500-job The Boeing Co. (NYSE:BA) to land near the Charlotte Douglas International Airport.
But he knows the plant will fit well with the Monroe-Union County aerospace cluster, which is composed of almost 20 businesses and 3,000 employees.
"Having a Boeing presence in the Charlotte region just gives our community a stronger competitive advantage in bringing more jobs and investment within this cluster," Platé says in an email today. He was responding to my questions about whether he thinks a huge Boeing plant is a good thing for the region.
He continues:
"A majority of our aerospace cluster is suppliers to Boeing, not only in Charleston but also worldwide," Platé writes, referring to the S.C. Boeing plant that makes 787 Dreamliners. "Monroe has been actively targeting the aviation industry since 2002, creating the highest geographic concentration of aerospace companies in the Carolinas."
Charlotte and North Carolina are among the 15 sites from which Boeing is soliciting bids for the 777X plant.
Some observers believe production of the new twin-engine airliner will instead take place at Boeing Puget Sound factory in Washington State. The solicitation of bids from the U.S. sites may just be a way to extract a new contract from its International Association of Machinist union workers, those observers say. Last month, the IAM local rejected a new contract with Boeing. The current agreement expires in 2016.
A Wall Street Journal story on Monday makes an interesting point about a huge corporation dangling 8,500 jobs before recovering local economies and, more important, before their state governments. Just how much in incentives can Boeing extract from state government, the article asks.
Both Missouri and Washington have revealed their wagers. Washington State is offering up to $4.3 billion, and Missouri has chimed in with $1.7 billion in incentives that have the approval of Gov. Jay Nixon.
Meanwhile, Katie Arcieri, a writer at The Business Journal in the Triad area, points out that Boeing has said it could be looking for two or more locations, not just one big facility. One factory could make the long, foldable, carbon-fiber wings for the 777X and the other could make the fuselages and then assemble the entire aircraft.
"There's a chance that we could decide to do multiple locations," says Doug Alder, a spokesman for Boeing, in response to Katie's questions. "It could be one. It could be two. It could be more than two."
Best news for the competing cities is that it at least doubles their chances of being selected for a big economic prize.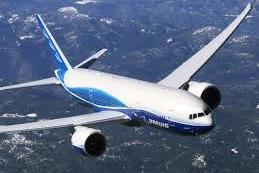 For full article, click here.
---
Back
Add to Prospectus